Mrs. Indira R. Patil, Principal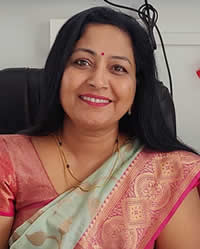 PRINCIPAL'S DESK

Education is about awakening - Awakening to the power and beauty that lies within all of us.
According me Education is widely pervaded idea (notion) which is not just bricks, mortar and concrete. Education is about building character, enriching minds and about varied experience which last life time.
We all know that the real goal of education is not to create people who understand only the language of technology; it should be also to impart a culture of the heart based on spiritual values. Tomorrow's world will be shaped by today's children. In their tender minds it is easy to cultivate universal human values. It should be a standard part of general education
"Your journey has moulded you for your greater good, and it was exactly what it needed to be ... it took each and every situation you have encountered to bring you the now. And, now is right on time..."
Life is a journey. We determine our destination. For us this journey of excellence is perennial. It has indeed been a long and enriching journey of M.T.E.S English School, Vishrambag, Sangli. We have always believed that "teach a child experience and appreciate that real wonders of his country and the world; and you will teach him to grow the wings of ambition and soar... soar a falcon towards the skies with feet firmly planted in core Indian Values."
I expect sincere Co-operation from parents and guardians for the attainment of Our School's objectives.